Latest update - wednesday 22nd may 2019
Women in Golf Charter
Langlands recently signed up to the R&As Women in Golf Charter, designed to promote the participation of women in the sport at every level, and to embed a culture of equality throughout golf. Our female membership is almost double the national average so it is vital that we build on this fantastic number to attract more women to our club.
Captain Martin Dow and Ladies Captain Annette McLuskey both signed the charter on behalf of the club which is now on display on the club's main noticeboard as well as within the ladies locker room.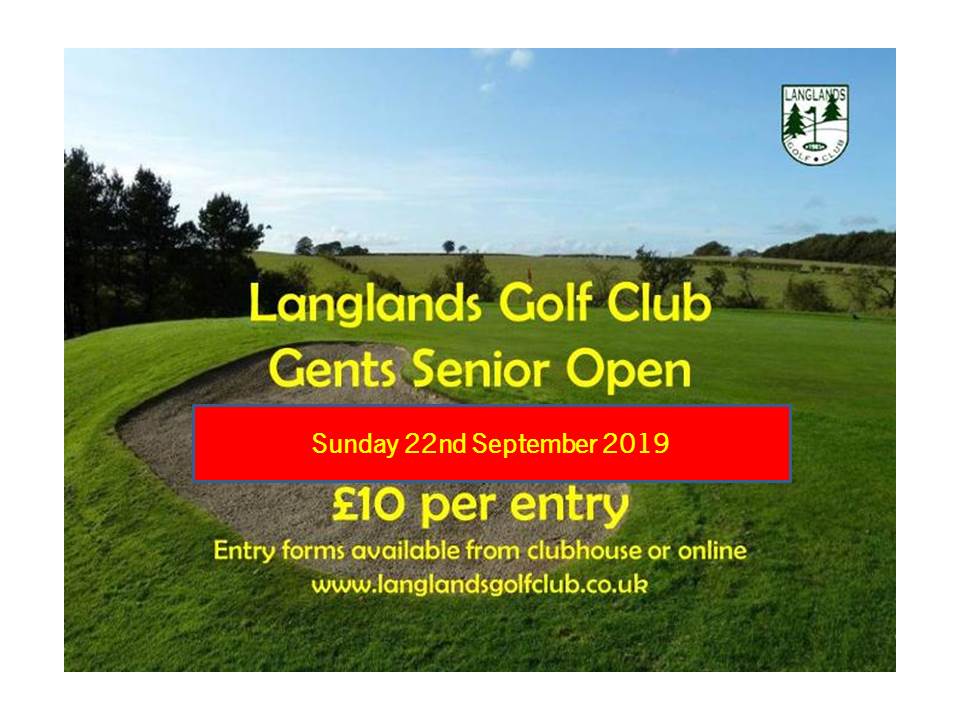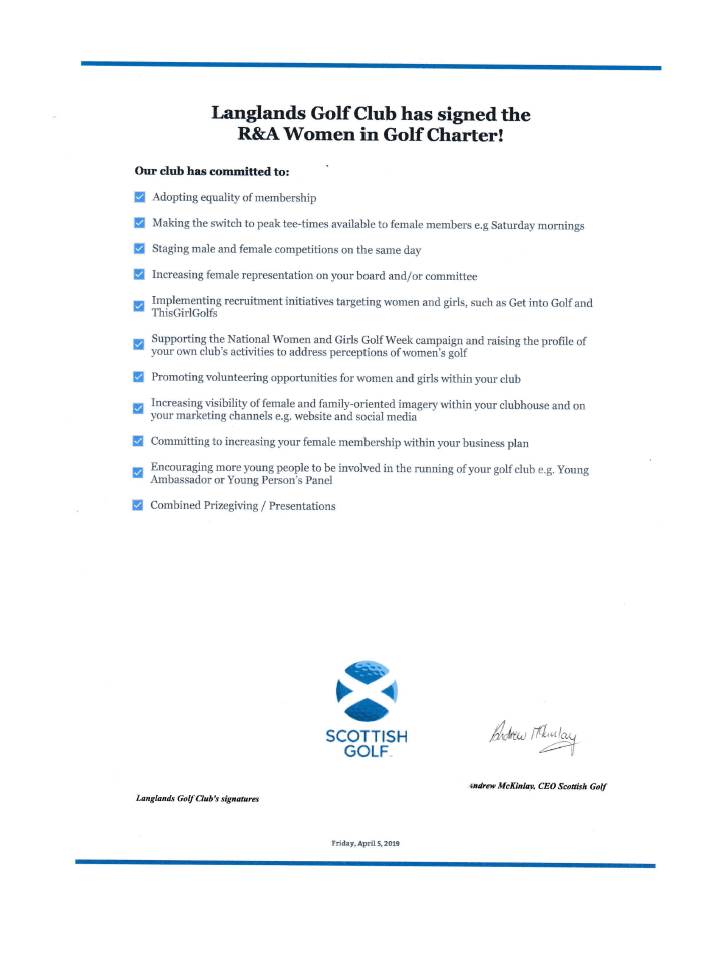 Ladies Team
Our ladies team lost their team match against Strathaven 2.5-0.5 on Tuesday 21st May. The match saw the ladies debut their new club sweaters and shirts, so they may have lost but they looked good doing it. Well done.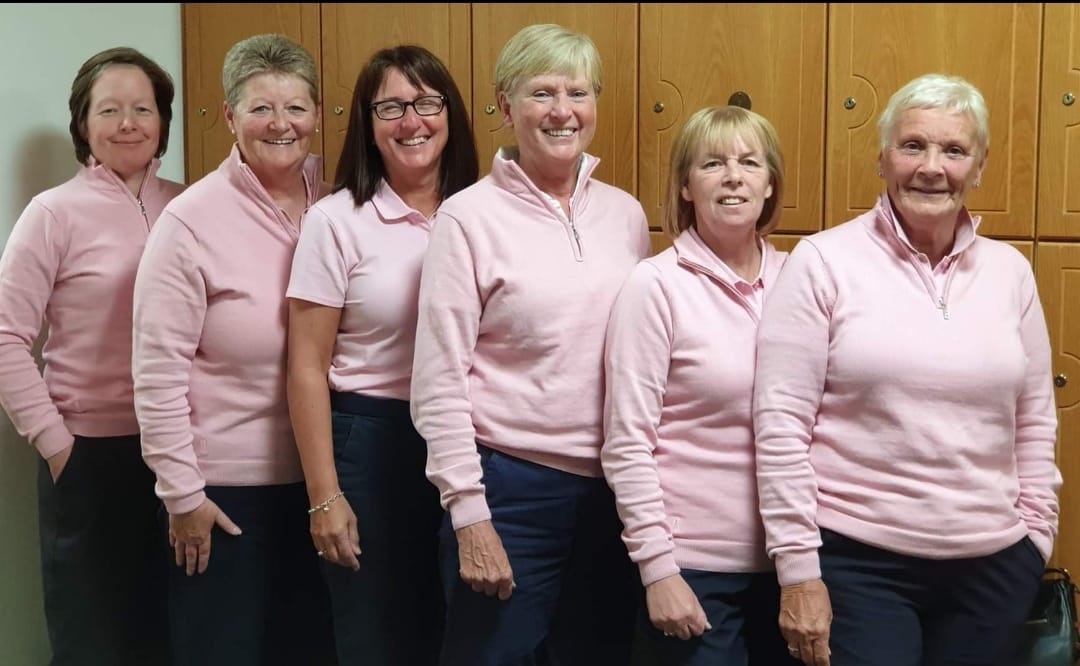 Lanarkshire Knockout Cup
Langlands made it to the second round of the Lanarkshire Knockout Cup on Sunday 19th May by defeating Larkhall 4-1 at home. Well done to everyone who took part.
We have now been given an away tie against Hamilton GC in the second round. Date and time TBC.
Captains Race Night - winning horses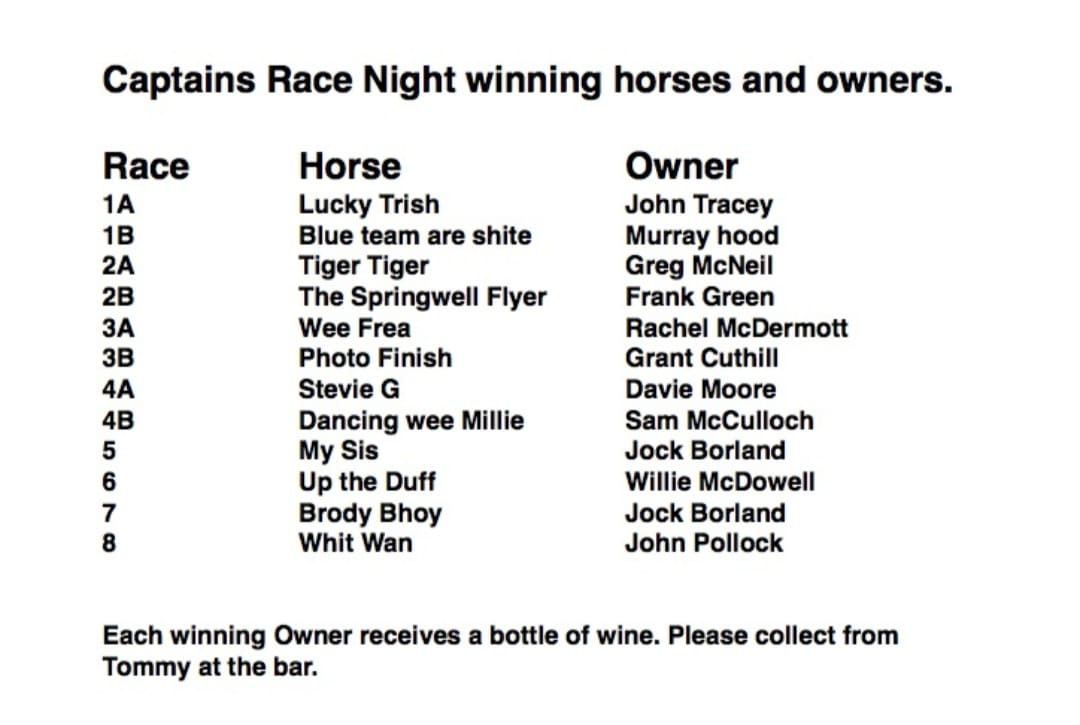 Captains Race Night - Saturday 11th May
Thank you to everyone who supported our Captains Race Night on Saturday, it was a great success and everyone had a brilliant time.
Well done to Martin, Dougie, John and Scott for all their hard work in making the night happen - you looked fantastic in your jockey outfits although some of you looked more convincing than others!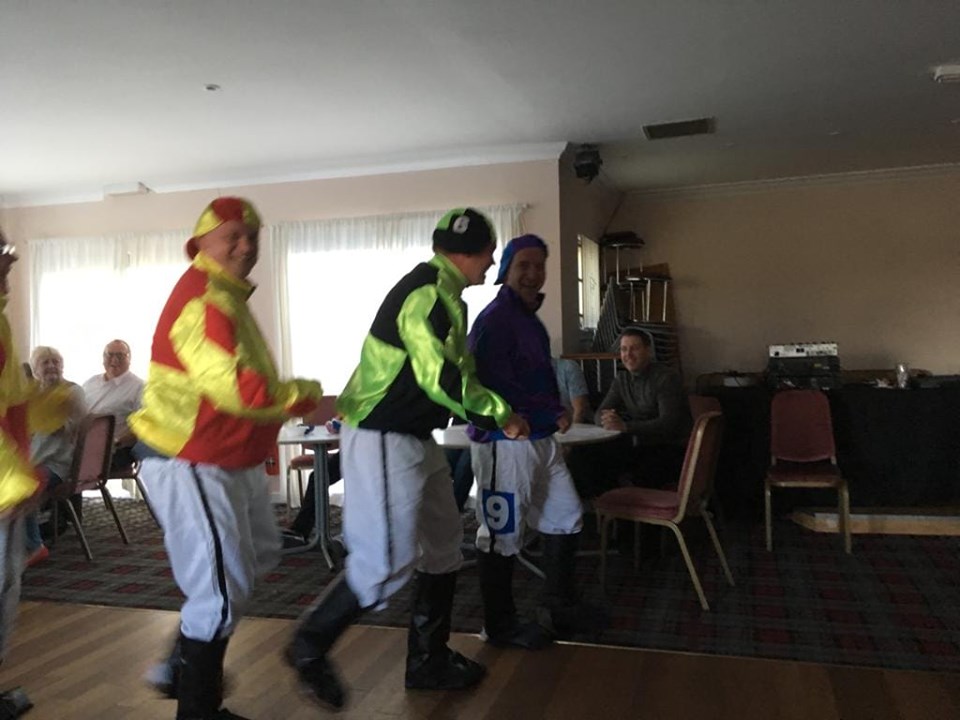 R&A Women in Golf Charter
Langlands GC has signed up to the R&A Women in Golf Charter, designed to promote equality of membership.
You will see the Charter notices on display in the clubhouse, but our commitment is more than just displaying posters. We already undertake most of the Charter's commitments in place, by the end of the year we intend to have them all embedded into the club.
Did you know that our ladies account for just over 22% of our total membership, almost double the national average. This is a fact to be celebrated, however we'd love for this number to be higher. We need more lady members! If you are thinking of joining a golf club we'd love you to consider Langlands.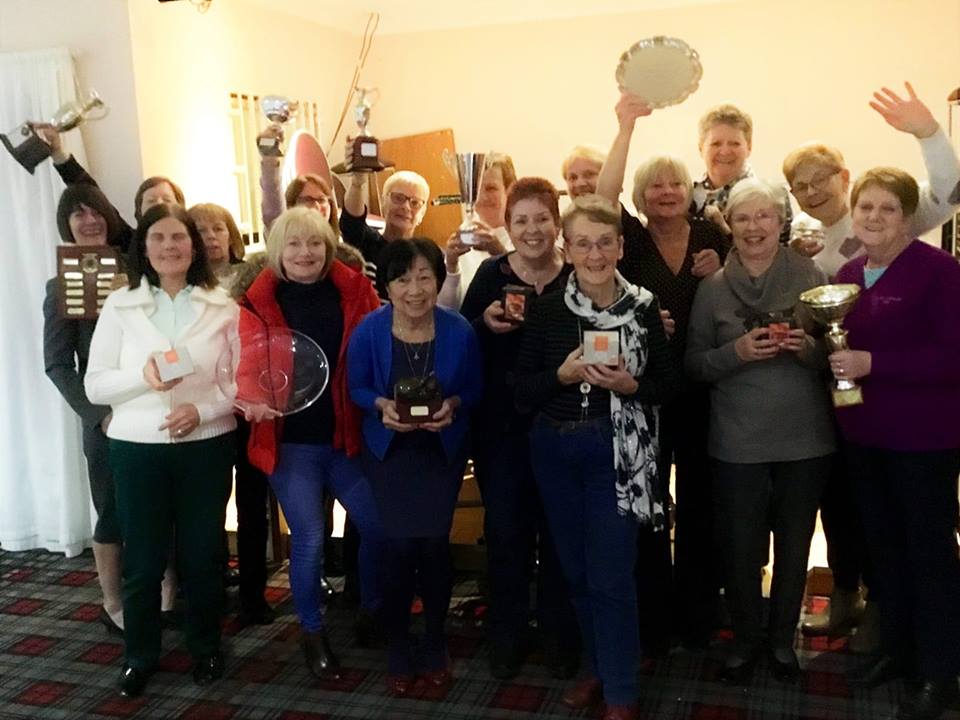 Scorecard Update- Gents stroke indexes
We have updated the stroke indexes for our scorecard, as per the card displayed. Please ensure these revised indexes are used going forward, including during our matchplay competitions.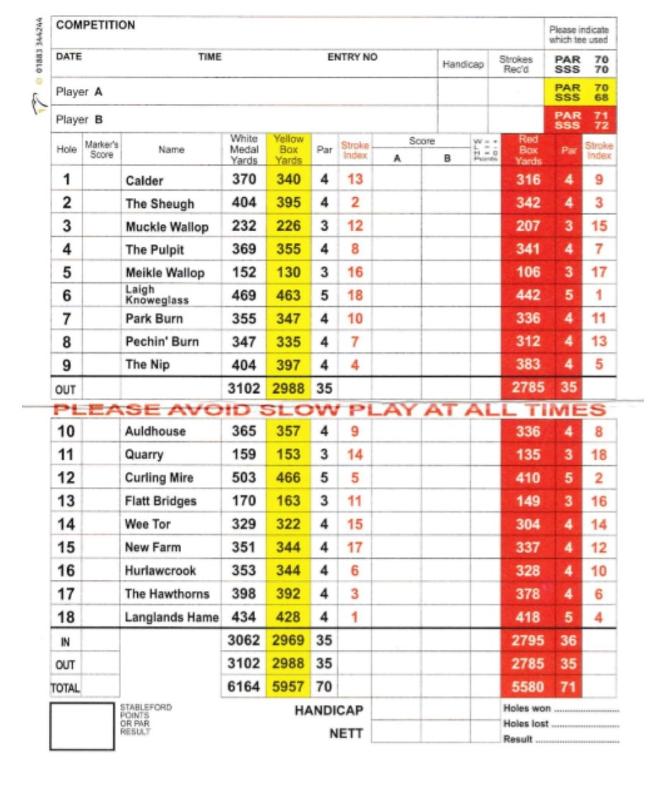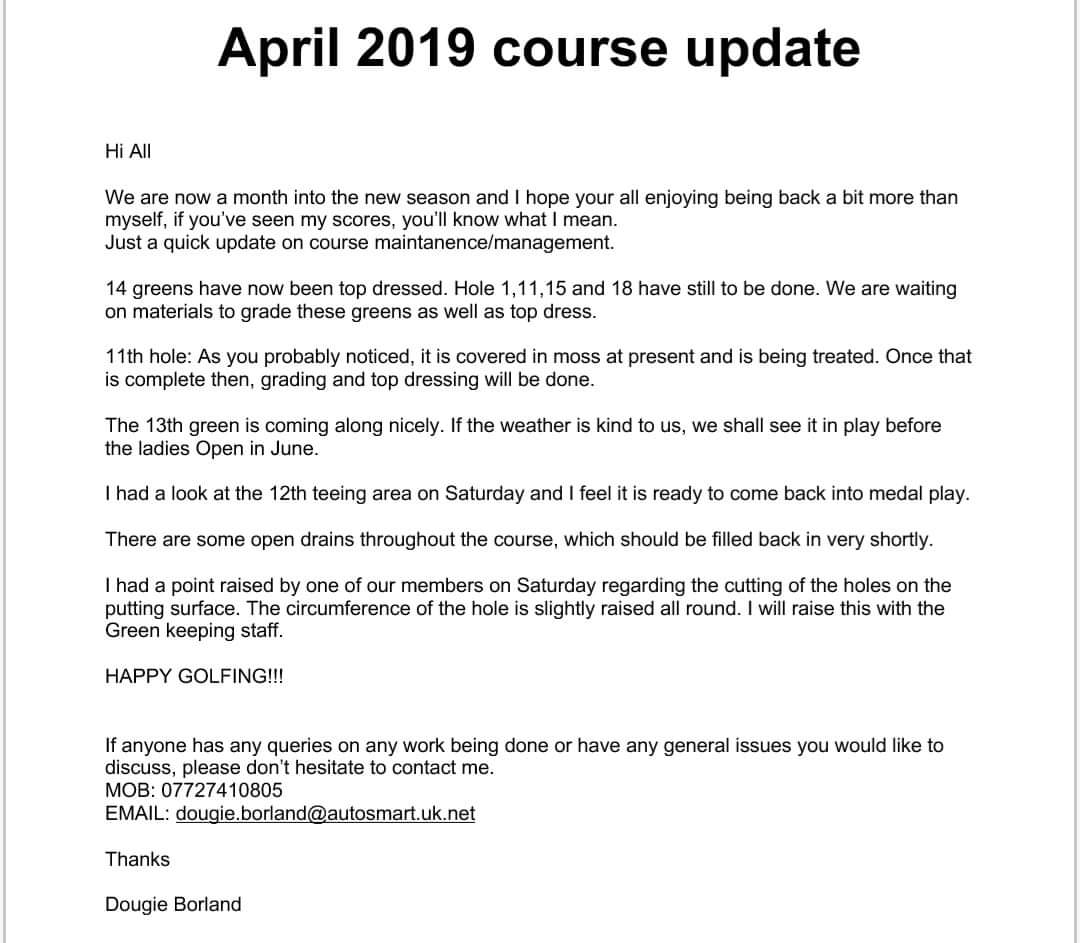 Gents Matchplay Competitions
The draws have now been made for the Gents Singles, Fourballs & Greensomes competitions and the draw sheets are now on display in the clubhouse. Please ensure all ties are played by the due dates. The competition entries are now closed, no further entries will be considered.
Langlands GC members Facebook group
We've created a members-only Facebook group that all members are invited to join. The club will use this as a means of communicating information quickly to the membership, however can also be used by members for arranging ties, tee-times etc. We hope that all Facebook-using members will join the group. Thanks to Garry Hackett for the suggestion.
Food and drink in the clubhouse
A friendly reminder to all members from the Committee of Management - only food and drink purchased from the bar may be consumed in the clubhouse. Thanks for your cooperation.
Tuesday Medals
Tuesday 9th April sees the first Tuesday medal, that we have introduced to give members additional opportunities to play competitive golf and (hopefully) improve their handicaps. These will be be played on a BYOT basis, costs are £1 to enter and £1 2s. The success and continued playing of these additional medals will depend on the numbers who take part, so we hope as many members as possible will take part. The existing Wednesday sweep is unaffected by this new competition.
Gents Senior team
Our Gents Senior Team now have their fixture list for the year confirmed -

click

here to view. If you are interested in playing for the team this season, please add your details to the sheet posted on the clubhouse noticeboard.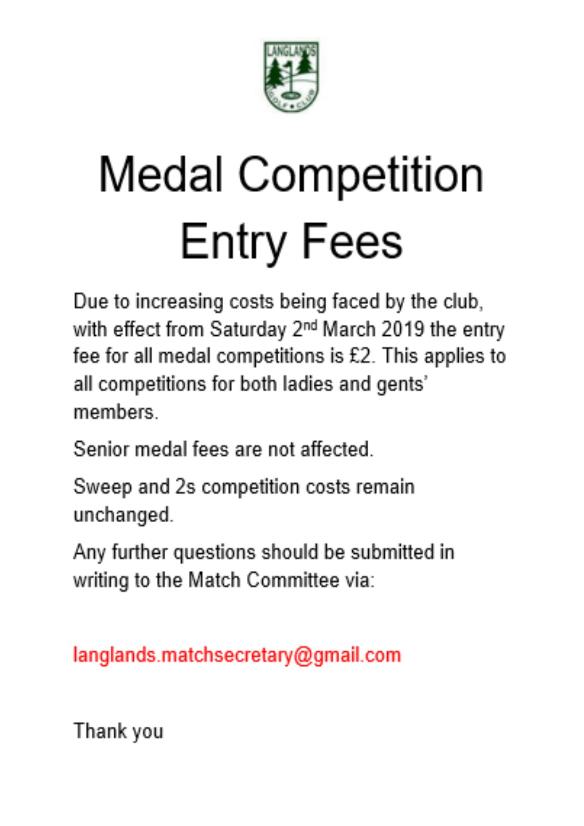 Committee Meeting
The next Committee Meeting takes place on Monday 10th June 2019 at 7.00pm.